Program Details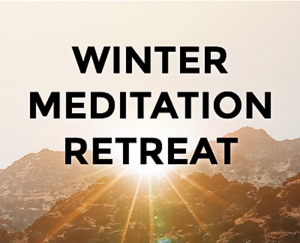 Winter Meditation Retreat: Finding Peace in Challenging Times (Eagle Rock)

with Marcia Henry-Fink
December 26 / 8:30 AM - January 1 / 5:00 PM



Our aim is to fully awaken our heart and mind, not just for our own greater well-being but also to bring benefit, solace, and wisdom to other living beings.
–Pema Chödrön

The inspiration for this winter retreat comes from Pema Chodron's first book in seven years: Welcoming the Unwelcome: Wholehearted Living in a Brokenhearted World. Her newest teachings make an open-hearted call for human connection, compassion, and learning to love the world just as it is during these most challenging times. This will be the source book for our winter retreat and copies will be available to purchase at the center or you may choose to purchase your copy in advance to bring with you.




A Weekthün is an intensive weeklong group meditation retreat under the guidance of a senior teacher in the Shambhala lineage. This retreat is open to all; there are no pre-requisites. Designed for both newcomers and those experienced in meditation, it will include sitting and walking meditation, contemplations, dharma talks, individual sessions with a meditation instructor, discussion and experiential exercises so that students may discover a personal connection to these profound teachings..




You are encouraged to participate for the entire week, but you are also welcome to attend for one or more days. Partial day attendance will not be permitted. Please register in advance.




Attending the full retreat meets the Weekthün requirement for Enlightened Society Assembly and Warrior Assembly. Vajrayana practitioners are welcome to participate and will have a separate space for practice and study sessions.




What's Included: 9am-7pm includes light breakfast and a hearty afternoon tea. (Program price: 5, Patron price: 5, Daily rate: /day.) Lunch will be provided on Day 1 and the retreat will close on Day 7 with a festive celebratory lunch. Participants may bring their own lunch or purchase something in the neighborhood on Days 2 through 6. For Daily participants, please indicate in the Comment field when you register which days you will be attending.




DAILY SCHEDULE




Please note: Practitioners who are seeking Weekthün credit for Enlightened Society Assembly and/or Shambhala Guide Training must attend the full program every day and be present for all sessions.




8:30 AM: Light breakfast, coffee & tea




9:00 AM: Opening Chants, Daily Opening Remarks, Group Practice




10:00 AM: Practice Session




12:00 PM: Movement




12:30 PM: Lunch




1:30 PM: ROTA work tasks, On your own: Rest, Walk




2:00 PM: Practice Session, Meditation Instruction




4:00 PM: Tea




4:30 PM: Practice Session




6:45 PM: Closing Chants




7:00 PM: Evening Close




About the teacher:




Shastri Marcy Henry-Fink has been a student of Chögyam Trungpa Rinpoche and Sakyong Mipham Rinpoche since 1977 and is a senior teacher at the LA Shambhala Center. She has led retreats at Shambhala Mountain Center, and worked with diverse religious communities as a member of the LA Buddhist and Interfaith Councils. Trained in both science and the arts, she is currently applying her experience as a stress management consultant to bringing mindfulness/awareness to the business community.



Go to Los Angeles's website