Program Details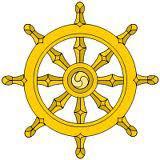 Refuge Vow Ceremony

with Noel McLellan
November 16 / 3:00 PM - November 16 / 5:00 PM



The Refuge Vow marks the decision to commit oneself wholeheartedly to the Buddhist path and to further one's practice and training. It is the formal commitment to becoming a Buddhist, following the example of the Buddha Shakyamuni, his teachings (the Dharma) and joining the community (Sangha) of fellow practitioners.




The entire community is invited to witness the Refuge Vow ceremony. The ceremony will be followed by a reception to honor vow takers and the lineage, please join us if you are able.




Those interested in taking the vow should take the classes on Oct. 28 and Nov. 4, please register separately for those here: https://halifax.shambhala.org/program-details/?id=404094




There is also a required interview with Acharya McLellan before the ceremony, Nov. 10 from 2-4pm. If you can't make it at this time, please let us know.




Generosity Policy applies, please contact us to arrange ahead of time.
Go to Halifax's website