Program Details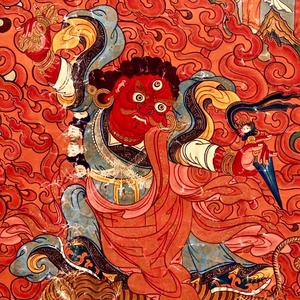 Exploring the Sadhana of Mahamudra

with Deborah Zarate
October 26 / 8:30 AM - October 26 / 5:00 PM



It is hoped that this sadhana will be practiced by those who are prepared to see the living dharma within. The sadhana will help to purify the present degenerate state of philosophy and meditation practice. It will help to bring peace in the warfare waged by materialism." - Ven. Chögyam Trungpa




In this program we will delve into key teachings of The Sadhana of Mahamudra. It will be an opportunity to get a feeling for the history and overall structure of sadhana practice as well as to work closely with particular themes within it. The program will include meditation sessions, sadhana practice, and close reading exercises, as well as talks and discussions. This program is recommended for those who have completed level 3 of Shambhala Training or have some experience with meditation practice.




Please note that there is a recommended sourcebook for this program. The cost of this is separate from the program fee.




Recommended student reading in preparation for the weekend:




Chögyam Trungpa Rinpoche – "Cutting Through Spiritual Materialism", especially the introduction and first chapter, pp 3-22.





- - - - - - - - - - - - - - - - - - - - - - - - - - - - - - - - - - - - - - - -




MORE ABOUT THE SADHANA OF MAHAMUDRA




The Sadhana of Mahamudra is an important text written by the founder of Shambhala, the Vidyadhara Chögyam Trungpa Rinpoche while on a pivotal retreat in Bhutan in 1968. It is a short liturgical practice that expresses the essential teachings of the Buddhist traditions the Vidyadhara inherited. He wrote this sadhana in a sacred cave in Bhutan at a turning point in his presentation of the Buddhist teachings in the West and so it holds a special place in Trungpa Rinpoche's transmission of the dharma in North America. The societal and individual challenges it lays out are as relevant today as when the sadhana was first received in 1968.




Overcoming Materialism




Rich and vivid, the poetic language of the liturgy articulates a picture of modern materialism - physical, psychological, and most especially spiritual. Practicing the sadhana serves to diminish one's materialist outlook while strengthening devotion to wakefulness. The Sadhana of Mahamudra joins and celebrates two threads of Tibetan Buddhist teaching: mahamudra and maha ati or dzokchen and introduces the style of teaching called crazy wisdom. Familiarizing ourselves with this sadhana can provide a touchstone for understanding the Vajrayana heritage of Shambhala. Practitioners at any stage of the path can experience its power and resonance.




The Sadhana of Mahamudra is one of the first liturgical practices that the Vidyadhara encouraged his students to do and is the only sadhana that he opened to nonvajrayana students, so it holds a unique place in our history.



Go to Chicago's website