Program Details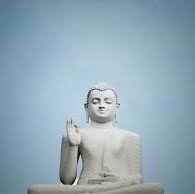 Refuge and Bodhisattva Vow Ceremony

with Richard John
February 11 / 5:00 PM - February 11 / 8:30 PM



To take the Refuge Vow is to commit oneself to the Buddhist path of awakening. We take refuge in the Buddha as an example, the dharma as truth, and the sangha as a community of fellow practitioners. It is the initial vow of the Buddhist tradition that marks one's formal entry onto the Buddhist path.




The Bodhisattva Vow is an aspiration to dedicate oneself and all that one does to the benefit of all sentient beings. It is further commitment to put others before oneself and to work wholeheartedly for their benefit--taken by practitioners who have already taken the Refuge Vow. The basis of this vow is the aspiration to develop friendliness, compassion, and genuine insight through the practices of the six Paramitas and to undertake the view and practice of a Mahayana bodhisattva.




Prerequisites




Participation in the preparatory classes for each vow is essential for vow-takers. A meeting with Acharya John for your name interview will be on Monday, before Open House sitting. A sign-up sheet for reserving your meeting spot will be available, if you have registered and paid the ceremony fee by Monday, February 3rd.




In order to take the Bodhisattva Vow, you must have taken the Refuge Vow at least six months prior. You may NOT take both the Refuge and Bodhisattva Vow at the same time.




Heart Gifts and Bodhisattva Gifts




These offerings are traditional gestures of generosity to the Vow Preceptor.




For Refuge Vow:





It is appropriate to offer a financial heart gift to the preceptor. This is voluntary and with no suggested amount, and will be requested at the time of the interview.


For Bodhisattva Vow:


It is appropriate to offer a financial heart gift to the preceptor. This is voluntary and with no suggested amount, and will be requested at the time of the interview. Please note that this is completely separate from your bodhisattva gift to the lineage, which is an essential part of the vow ceremony.


Monday, February 10th, before Monday Open House, Acharya John will meet prospective vow-takers in individual interviews. These will be scheduled on a first-come-first-served basis. A letter with an available schedule will be sent to registrants who have paid their ceremony fee by February 3rd.
Preparation for the Vow
Taking vows is an important step on your path. If you are considering taking either the Bodhisattva Vow or the Refuge Vow, it is essential to participate in the study classes to more fully understand the commitment. Jenny Warwick will be teaching a Thursday evening class to prepare those intending to take their Bodhisattva Vow. Shastri Jason Ruvelson will be teaching a Monday evening class for those wishing to know more about taking refuge and/or intending to take that vow.
Reading and studying the appropriate sourcebook will be part of each of these preparatory classes. The cost of these sourcebooks () is included in the registration fee and provided when you register for the preparatory classes.
The Bodhisattva Vow Sourcebook
Please see the website for registration and meeting dates.
Having a mediation instructor will also be helpful for taking this step in your path.
SCHEDULE (Tentative)

Monday, February 10th – Sitting and Name Interviews (TENTATIVE)

Further information will be forthcoming
4:00 pm - 6:45 pm Check-in and completion of registration
Name Interview Meetings with Acharya John
HEART GIFTS WILL BE COLLECTED AT THIS TIME
Tuesday, February 11th - Ceremony
5:00 pm Sitting Meditation
5:30 pm Bodhisattva Vow Ceremony (Open only to Bodhisattvas)
6:30 pm Refuge Vow Ceremony (open to all guests and sangha members)
7:30 pm Reception
Guests and family are welcome to celebrate with you.
When you register, please indicate in the "Comments" field how many people will be attending the reception (in addition to yourself). Only those who previously have taken the Bodhisattva Vow may be present at the ceremony to witness those taking the Bodhisattva Vow for the first time. However, family and friends are warmly invited to witness those taking their Refuge Vow that follows the Bodhisattva Vow ceremony, and to enjoy the reception that concludes the evening.
Please also indicate in the "Comments" field, WHICH VOW you are taking.
Re-taking the Bodhisattva Vow
It is possible to re-take your bodhisattva vow at this time as well.
It is traditional to re-take the Bodhisattva vow many times during your life. There is a difference between just witnessing the vow and re-taking it. Anyone wishing to re-take the vow will go through the ceremony exactly like the new vow-takers. They sit with or just behind the new bodhisattvas, offer a bodhisattva gift, and recite the liturgy. The only difference is that they do not receive a name. PLEASE BRING YOUR LITURGY!
If you are a Bodhisattva Vow "re-taker" please register! (The "REGISTER" button is below.) You will not have to pay the program fee, but a Heart Gift to the acharya is traditional and customary.
Acharya Richard John
An early student of Chogyam Trungpa Rinpoche, Richard was appointed an acharya (senior teacher) by Sakyong Mipham Rinpoche. For many years he has taught Shambhala Buddhist programs in North America, New Zealand, Australia, Mexico and Chile. After careers as a designer and a management consultant, he served as director of the Halifax Shambhala Centre. He completed the first three-year group retreat at Gampo Abbey, and he now teaches full time. Richard and his wife Liz reside in Halifax, Nova Scotia.
Go to Bellingham's website