Program Details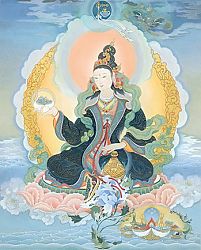 The Trekcho Instructions of Yeshe Tsogyal

with Richard John
December 9 / 8:30 AM - December 9 / 5:00 PM



THE TREKCHÖ INSTRUCTIONS OF YESHE TSÖGYAL




With Acharya Richard John




This one-day retreat is open to all tantrikas who attended Vajrayana Seminary or Sacred World Assembly, regardless of your current practice.




In the 8th century CE, Yeshe Tsogyal had a vision in which Vajrayogini gave her these pith instructions for practicing trekchö, known as "cutting through to primordial purity." Trekchö is the dzokchen equivalent of mahamudra, and both are the epitome of the path of wisdom. This profound but practical and accessible text gives concise instructions for recognizing and resting in the empty and luminous nature of mind




We will conclude the day with the Sadhana of Mahamudra, followed by a feast-style buffet, to which all tantrikas are invited.




Schedule




Monday Dec. 9, 2019




8:30 am-5:00 pm




6:00 pm: Sadhana of Mahamudra and feast




Acharya Richard John




An early student of the Vidyadhara, Richard was appointed acharya by the Sakyong. For many years he has taught Shambhala Buddhist programs throughout North America. He completed the first three-year group retreat at Gampo Abbey, and leads annual 10-Day Mahamudra Retreats at DDL, Karme Choling, SMC and Casa Werma. Richard and his wife Liz live in Halifax, Canada.




Heart Gifts




It is customary to offer a monetary Heart Gift to the teacher. Acharyas receive no salary or benefits, and depend upon this income in order to teach for a living. This is completely voluntary according to your inspiration, and any amount is appreciated.
Go to Milwaukee's website