Program Details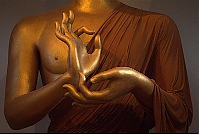 Basic Goodness 2 - How Can I Help?

with Arawana Hayashi
February 6 / 7:00 PM - March 12 / 9:00 PM



Basic Goodness 2
Basic Goodness of Society: How Can I Help?




Six Thursday evenings -
Dates: Feb 6, 13, 20, 27, March 5, 12
Time: 7 to 9 p.m.
Taught by Acharya Arawana Hayashi, facilitated by Susan Gluck




Acharya Arawana Hayashi teaches this six-session course exploring our relationships with others, the aspiration to help our world, and specific aspects of social transformation. We look at a Shambhala understanding of society, and what enlightened society may be. Is society something that is ultimately confused, or is there goodness in human society?




The course focuses on transforming four aspects of society: relations with family (household), professional life, entertainment, and economy. We learn the traditional mahayana practice of "sending and taking" (tong len).




About Acharya Hayashi:
Since 2002 she has taught meditation and creative process at ALIA (formerly the Shambhala Institute for Authentic Leadership) in Halifax. She is on the faculty of the Mukpo Institute at Karme Choling and the Authentic Leadership Program at Naropa University. Since 2004 she has been teaching innovative leadership workshops with social researcher, Otto Scharmer, and is a founding member of the Presencing Institute. There she currently is creating a Social Presencing Theater, which applies Shambhala art to organizational and social change projects. She lives near Sky Lake in the Hudson Valley, New York, and is the proud mother of Ayla Teitelbaum and Kobun Kaluza.




About Susan Gluck




Susan, a native of New York, now lives in Richmond, CA and works as a graphic designer. She has been a Buddhist practitioner since the early 1980's. Her practice has been primarily dedicated to Pema Chodron and the Shambhala teachings for the past 15 years.



Go to San Rafael's website