Program Details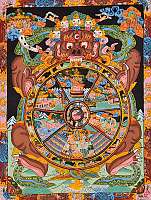 Karma & the Six Realms:  A Buddhist Path to Sanity and Liberation

with Deborah Zarate
May 13 / 6:30 PM - June 10 / 8:30 PM



This 5-week course will be an exploration into the principles of Karma using the book by Chogyam Trungpa Rinpoche: The Future is Open: Good Karma, Bad Karma and Beyond Karma.




According to Chogyam Trungpa, an understanding of karma is good news! When aligned with a meditation practice, reflecting on karma can help us discern a path to sanity right within our own minds and experience. During this course, we will follow the outline of the book and examine the Buddhist teachings on selflessness and co-dependent origination -- using the models of the Five Skandhas, the Twelve Nidanas and the Six Realms of existence - most evocatively pictured as "The Wheel of Life." These teachings on karma go right to the heart of ignorance and self-deception by exposing the confusing patterns of attachment that fuel so much suffering in our lives.




Cost: please do not let financial constraints prevent you from participating in this class -- pay what you can. The patron price is for those who can afford more and would like to make an additional contribution to the Milwaukee Shambhala Center.
Go to Milwaukee's website