Program Details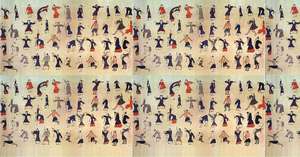 Traditional Chinese Qigong Retreat (level 4)

with Samten Kobelt
May 4 / 8:00 AM - May 5 / 6:00 PM



Daoist qigong is a spiritual discipline that cultivates body and mind simultaneously. Originally called daoyin, which means 'guiding the flow of internal energy (qi), it has been practised for over two thousand years in China. Laozi, the founder of Daoism, was said to have been the first to practice techniques of conserving, gathering, cultivating, nourishing, and transforming energies that are the source of a healthy body and a clear mind.

The techniques of Daoist qigong were systematized during the Han dynasty (3rd century BCE to 3rd century CE) by the father of Chinese medicine Hua Tu. From then on daoyin, or qigong, has been incorporated into Daoist spiritual practices up to the present day.




The techniques of Daoist qigong can be divided into three categories - outer, inner, and secret.




Outer qigong focuses on physical strengthening, inner qigong with nourishing the internal organs and gathering and conserving energy, and secret qigong with dissolving the duality of mind and body to merge with the primordial energy of the Dao.




No spiritual discipline is complete without integrating its formal practices into everyday life. In this respect, Daoist qigong advocates a lifestyle of simplicity and moderation, encourages the cultivation of generosity, compassion, and wisdom, and fosters the development of honour and respect for ourselves and the world.



Programme Level 4


Talk: The Daoist Path of the Dual Cultivation of Body and Mind - The Union of Xiantianwujimen, Yiquan, and Wudang Shan Lineages


Begin Wudang Five Animals Form


Continue with Immortal's Guide to Self-Massage and Breath Regulation


Continue with Red Phoenix Calisthenics


Complete Yiquan Zhangzhuan


Practical
Programme starts Wednesday 4th May, 8.30am and ends Thursday 5th May, 6pm.
Attendance during the whole session is important to apply for the next level.
This programme is taught in English. Free translation into French or other languages needs to be confirmed. Important: translation services are possible only if you register your request at least two months in advance of the programme.
Repeater special price
If you participate to this programme (level 4) for the second time, a reduction of €50 will be applied to the regular price below. To benefit from this repeater special tarif, please make sure you announce this option when registering. Any discount based on income would be calculated on the reduced repeater price.
Go to Dechen Chöling's website