Program Details
" width="150" align="right">
Poziom 1 Treningu Shambhali/ Shambhala Training Level I

with Sabine Rolf
September 11 / 7:00 PM - September 13 / 6:00 PM



Poziom 1 Treningu Shambhali - "Sztuka bycia człowiekiem"




Program nauczany w języku angielskim z polskim tłumaczeniem.




Program jest pierwszym z cyklu pięciu podstawowych treningów na ścieżce Shambhali. To weekendowy warsztat medytacji siamatha (spokojnego spoczywania), opartej na praktyce uważności i świadomości.
Ta prosta, a jednocześnie głęboka i wymagająca technika, pozwala nam zatrzymać się, przyjrzeć się swojemu umysłowi i zaprzyjaźnić z samym sobą. W wyniku tej praktyki doświadczamy przebłysków otwartości, zaufania do siebie, łagodności – bezwarunkowego dobra, leżącego u podstaw naszej egzystencji.
Trening ma charakter świecki i jest otwarty dla wszystkich, skierowany jest zwłaszcza do osób początkujących. Składa się z instrukcji do medytacji, sesji medytacyjnych, wykładów, rozmów z instruktorami medytacji oraz dyskusji.




Prowadząca: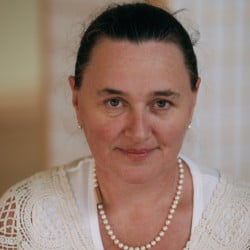 Sabine Rolf jest autoryzowana jako Acharya* w linii Kagyu / Nyingma / Shambhala i od ponad 20 lat praktykuje medytację i kontemplację. W Europie intensywne naucza buddyzmu, Shambhali i psychologii kontemplatywnej, a także prowadzi warsztaty poświęcone uważnej komunikacji.
Studiowała filozofię i literaturę niemiecką w Hamburgu i pracowała w zespołach kierowniczych w edukacji dorosłych i profilaktycznej ochronie środowiska.
Mieszka w Niemczech. Lubi czytać, chodzić na długie spacery oraz uprawiać swój ogród.
piątek - wieczorny wykład 19:00
sobota - 9:00 -19:00 z przerwą obiadową 12:30-14:00
niedziela - 9:00 -18:00 z przerwą obiadową 12:30-14:00
Sugerowana darowizna: 320zł,
Early bird 270 zł (do 10 sierpnia),
osoby powtarzające 160 zł
W wyjątkowych przypadkach istnieje możliwość obniżenia opłaty lub rozłożenia jej na raty.
Przy wpłacie prosimy dodać adnotację "Darowizna na ST 1".
Gwarantem rezerwacji miejsca na programie jest wpłata bezzwrotnej darowizny w wysokości 80 zł na konto:
Shambhala Kraków
Alior Bank S.A. O/Kraków
98 2490 0005 0000 4500 8581 0440
Po ukończeniu weekendu istnieje możliwość kontynuowania Treningu Shambhali i uczestniczenia w kolejnych jego poziomach.
Kontakt: [email protected]
oraz 505898303
Zapraszamy i do zobaczenia!
*Acharya to sanskryckie słowo, które oznacza "nauczyciel". Odnosi się do osób, które Sakyong Mipham Rinpocze upoważnił do reprezentowania go oraz linii Kagju, Ningma i Szambali, które reprezentuje. Sakyong Mipham Rinpocze wybrał te osoby ze względu na ich wiedzę, mądrość i zaangażowanie w przekazywanie nauk Shambhali.
Go to Krakow's website