Program Details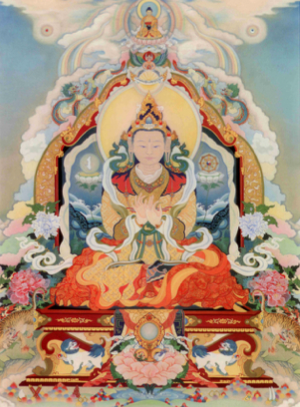 Rigden víkend - Bezpodmínečná jistota

with Samten Kobelt
August 28 / 5:00 PM - August 30 / 5:00 PM



Rigden symbolizuje naši základní osvícenou přirozenost a ztělesňuje principy nepodmíněné odvahy, jemnosti a jistoty. Historicky byli rigdeni osvícení vladaři, kteří vládli svým společnostem dle principů probuzenosti, soucitu a moudrosti.




Spokojenost, radost, nebojácnost a moudrost Cesty Shambhaly vrcholí bezpodmínečnou jistotou. Tento víkendový workshop vedený učitelem v tradici Shambhaly představí učení osvíceného vládnutí. Vzhledem k velkým problémům, kterým nyní lidská společnost čelí, se zdá být stále důležitější najít jednoduché způsoby, jak vnést do světa soucitné a silné vedení, a to i malými způsoby. Tento víkend zdůrazňuje skutečnou jistotu a vytrvalost při setkávání se se světovými výzvami.




Kromě učení o osvíceném vládnutí bude představena meditační praxe k pozvednutí své osobní energie a Shambhala slib, což je osobní aspirace objevit a ve svém životě manifestovat princip základního dobra. Studenti budou mít během program možnost Shambhala slib přijmout. Kdo se pro to rozhodne, bude mít osobní meditační inteview s Acharyou a jako součást ceremonie slibu obdrží své Shambhala jméno.




Místo: Chata Kara v Krkonoších, Roudnice v Krkonoších 15, 514 01 Jilemnice (http://www.chatakara.cz/)




Cena
Včasná platba: 4000 Kč (za registraci a platbu nevratné zálohy 50% do 20. července na účet 1465743001/5500)
Cena za pozdější platbu: 5000 Kč




Cena zahrnuje program, ubytování a stravu a část materiálů. Nezahrnuje dodatečné náklady na materiály v hodnotě 500,- Pokud chcete vegetariánskou stravu nebo jinou speciální stravu, uveďte to prosím v registraci či nám napište.




Cena by neměla být překážkou v účasti. Pokud by pro vás byla, ozvěte se.




Program navazuje na týdenní meditační pobyt "Seznámení se se svou myslí" - https://praha.shambhala.info/calendar-details/?id=456730
Účast na obou programech je možná za sníženou cenu.





| | | |
| --- | --- | --- |
| | Cena včasná | Cena později |
| jen týdenní retreat | 6000 | 7000 |
| jen Rigden | 4000 | 5000 |
| oboje (8 nocí) | 8000 | 10000 |
O učiteli:
Samten Kobelt vyrostl poblíž Curychu ve Švýcarsku, kde opět žije od roku 2013. V roce 1984 se setkal s učením Shambhaly na Naropa University a začal praktikovat. V roce 1985 potkal Trungpu Rinpočheho v Německu a stal se jeho studentem. Byl rezidentním ředitelem Shambhala tréninku v Bernu a koordinoval první dva Warrior's Assemblies v Evropě.
Samten strávil 10 let v hlavních zemských centrech Shambhaly v Severní Americe, kde se stal studentem Sakyonga Miphama Rinpočheho. Šest let působil jako ředitel Marpa House a tři roky jako Shastri v Boulder Shambhala Center.
Samten se zajímé o spojení mysli a těla a jeho aplikaci ve společnosti od doby, kdy začal meditovat. Cvičí a vyučuje kontemplativní taneční praxi, kterou vyvinula Barbara Dilley; Lujong (tibetskou jógu) předaný Khenpo Tsultrimem Gyamtsem Rinpočhem; Bugaku (japonský dvorní tanec) od Togi Senseje prostřednictvím Arawany Hayashi; a Qigong v linii Evy Wong.
Go to Prague's website