Program Details
(Online) Mudra Space Awareness: Gesture Practice for Intense Times

with Craig Warren Smith & Suzann Duquette & Greg Heffron
October 24 / 12:00 AM - October 25 / 12:00 AM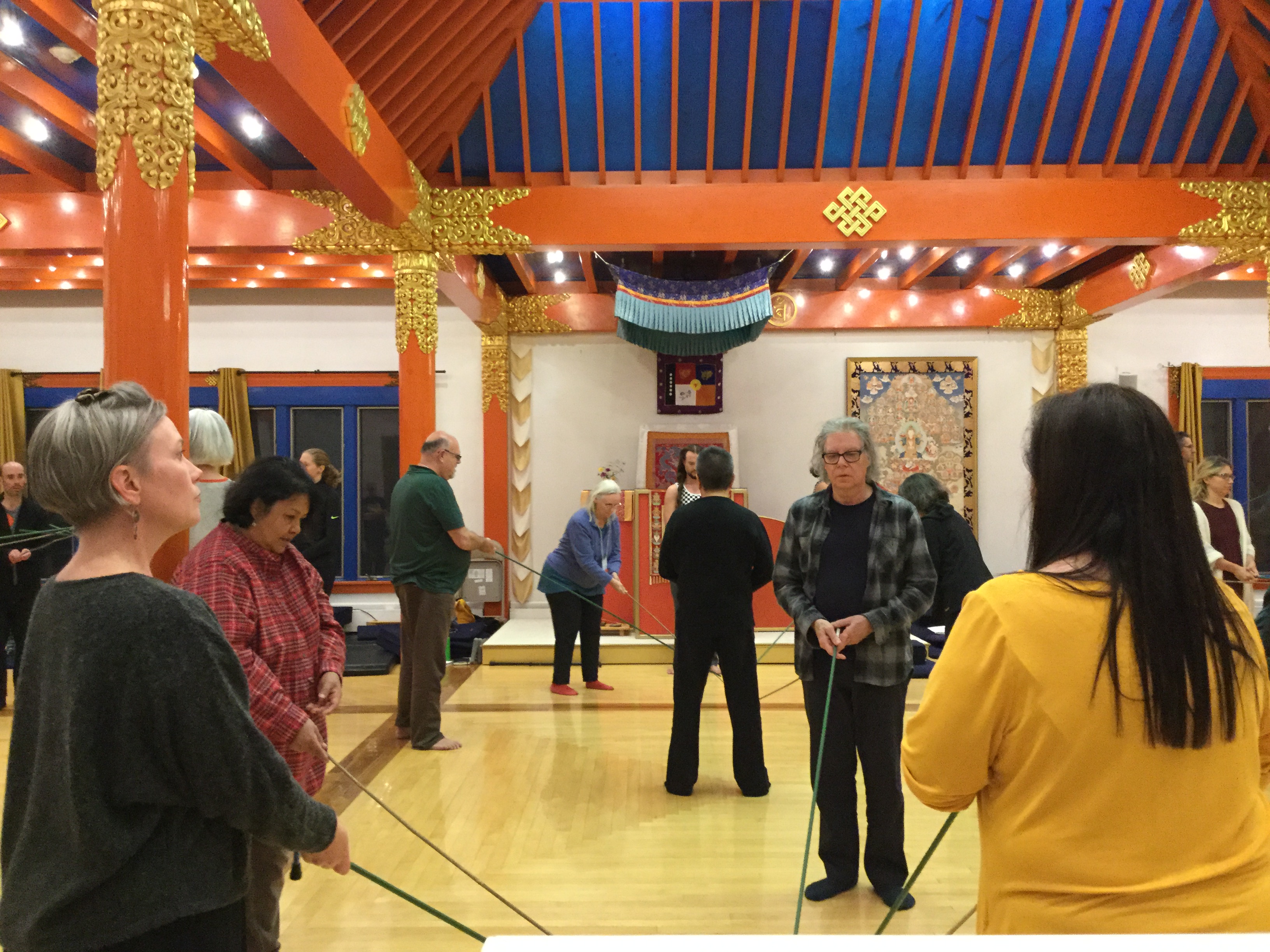 Fight, flight, freeze!
We live in a time of tension and uncertainty. Mudra Space Awareness is an intense mind/body practice that cuts through the heaviness of tension and releases the freshness of total involvement, insight, and confidence.

How can you stay awake when things are so intense that all you want to do is numb out? Lean into the fundamentals of Mudra – an embodiment practice to hold space and cut through to well-being and mental clarity. Founded in Buddhist principles, Mudra works from the inside out to bring moment-by-moment awareness into our lives. It is a discipline for this time of chaos, fear, and groundlessness.

Have you wondered about Mudra for a long time? Are you just hearing about Mudra? This is the moment to join in this intense practice for intense times and come back to a basic sense of being. If you've always wanted to know about this unique, experientially-based practice, originally presented by Chögyam Trungpa Rinpoche in the 1970s, now is the time.

Fifty years after being first introduced at Karmê Chöling by Trungpa Rinpoche, the intensive physical and sensory exercises of Mudra Space Awareness have coalesced as a definitive practice for both personal and professional growth. Three dimensions of Mudra help us to hold the space with potent gestures in order to be able to stay present in these times of uncertainty:



Vision: Mudra provides an experiential glimpse of non-dual perception, in which self and other co-arise in a moment of perception. Practitioners can gain a pragmatic and accessible understanding of cutting through to original mind and glimpse freedom from self-orientation. At the core of Mudra are Tibetan Buddhism's highest non-dual teachings, in which self and other co-arise in each moment.



Method: Exercises and postures train the practitioner to make inner "gestures" – subtle actions – that rework the mind/body relationship and alter sense perceptions while restoring balance and resiliency. These result in a refreshing level of flexibility and awareness that is applicable to every situation.



Applications: Presented as theater training and a vital complement to meditation and contemplative practices by Trungpa Rinpoche, Mudra has evolved to be applicable to all aspects of everyday life - health, family, education, art and entrepreneurship. Applied Mudra is effective in both digital and physical settings.



Teachers of this program have spent the past decades deepening and understanding the profundity of these teachings. The weekend will present the fullness and applicability of this mind-body discipline for these intense times. Adapted to an online format for this time of Covid-19, the program brings together a community of practitioners who have benefited from this practice in-person and online and, for the first time, welcomes anyone interested to feel its power and effects.

Join us online for a day and a half of the fundamentals of Mudra intensification practice and digital Mudra - how to bring Mudra to our digital experience. Feel the energetics and magic of Mudra for yourself by making your own full gesture in response to your world.

Dr. Craig Smith, Chairman of Mudra Institute, who studied Mudra with Trungpa Rinpoche, will present the view of Mudra, offering guidance on the three dimensions of Mudra and how we can apply these in our lives as they are today.

Senior Mudra teachers Acharya Suzann Duquette and Greg Heffron will work with other Mudra teachers and advanced Mudra practitioners to present these experiential exercises as they relate to spiritual awakening and lifestyle balance.

This day and a half will include intensive physical postures, sensory awareness exercises, Mudra meditations and contemplations, talks and discussion. Mudra postures and exercises can be adapted to work with individual needs. All are welcome. There are no prerequisites.

"Mudra opens me to my life and the dharma in the most profound ways."

"Getting a taste of different energies, styles and personalities was very rich and

inspiring. The co-creation of practice made the possibility to embody mudra principles in my life very real."

"Fills out the other teachings. So subtle and so deep and profound."

"I never thought it would feel the same doing Mudra online, but it works, it really works."

"Extremely valuable, opportunity to experience different teachers and styles, approaches."

Who Should Attend?

Everyone who is interested in gathering for this unique practice of Mudra Space Awareness – from new practitioners to most advanced. Those new to Mudra will have a special introduction and training opportunities, with discussion.

Program Schedule

The program will begin Saturday, Oct. 24, at 9 a.m. to 5:30 p.m. It will continue on Sunday, Oct. 25, from 9 a.m. to 12:30 p.m. All times are US Eastern time.

More About Mudra
As part of this immersion into Mudra, we asked Mudra teachers some questions about their relationship to this transformative mind-body discipline. See their answers on our
BLOG
.
Also see a collection of videos and articles about the practice of Mudra on the Mudra Institute website at
www.mudrainstitute.org
---

Please Note: The price below includes a per person teaching gift for Dr. Smith, who is responsible for holding and developing the full scope of the Mudra Institute.
Go to Karme Choling's website