Program Details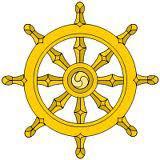 Shambhala Educator Meeting [Online]

with Joel Wachbrit & Marcia Henry-Fink & Marilyn Moore
December 5 / 2:00 PM - December 5 / 5:00 PM



In our shift to creating a greater sense of inclusivity, community, and social interaction, we encourage all of our group sessions to include some discussion and participant involvement. In order to create an environment conducive to participation and engagement, we need to feel confident and relaxed ourselves in opening the space for others.




This training session is an opportunity for us to talk about what holds us back, to explore ways to allow connection, and to practice holding the space for each other. In addition, we will talk through challenges and opportunities occasioned by SMCLA's move to online programming.




This session is open to anyone who serves as a Shambhala Guide, Shambhala Path Meditation Instructor, facilitator, or teacher.
Go to Los Angeles's website