Program Details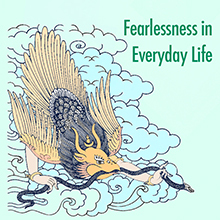 Fearlessness In Everyday Life

with Joanne Martin Braun & Barbara Hirschfeld
January 18 / 1:00 PM - February 17 / 8:00 PM






Fearlessness In Everyday Life




with Joanne Martin Braun and Basha Hirschfeld




This class has one prerequisite: some meditation experience.




Main Classes with Joanne & Basha
Dates: 5 Tuesdays from Jan 18 to Feb 15
Time: 1 pm to 3 pm




Also...




Follow-up Discussions with Basha (Optional)
5 Thursday evenings, Jan 20 - Feb 17
7 pm to 8:00 pm for follow-up discussions.




Those unable to attend the Tuesday afternoon classes should watch the Tuesday recordings before attending the Thursday evening discussion sessions. The recordings will be available by noon Wednesday.




Those who do attend the Tuesday classes are also encouraged to come to the Thursday discussion sessions but it is optional.




The Class
Learning to work with our anxiety, we are not blocked by fear. Through an exploration of the Shambhala Buddhist teachings of mind and the nature of reality, we learn to see clearly. We dare to face life and death as they are. The meditator, open to uncertainty, goes beyond the emotions of hope and fear to experience equanimity.




The Cost
Price: 0
Repeaters: (Use the "Other" option when registering)
Or, pay in accord with your circumstances (Enter amount when registering)




The Teachers




Joanne Martin Braun is a Shastri, or senior teacher in the Shambhala community. She became a student of Chogyam Trungpa Rinpoche in 1978, and has been a student of Shambhala since that time. She has a Ph.D. in Counseling Psychology, and has been teaching meditation in business and healthcare settings for twenty years. Joanne and her husband Lou have a daughter and currently live in Sonoma CA.




Basha Hirschfeld has been involved in Shambhala since 2001 when she attended a weekend retreat with Pema Chodron and Jesse Miller. She was coordinator of Shambhala Training for Sonoma and Santa Rosa. She helped start the Santa Rosa Shambhala Center and then served as Director until 2012. Since then, she opened a retreat center on her land in Sebastopol, Open Sky Retreat Space, where she hosts many different groups doing workshops and retreats in a peaceful country setting.



Go to San Rafael's website